We're excited to introduce a Smarty guest blogger (and recent Smarty Mom), Tiffany Dahle! Tiffany is a local Charlottean but blogs over at Peanut Blossom where she shares her belief that strong families start with strong and happy mothers. She has tons of Smarty tips, and we're so happy she's sharing them with us!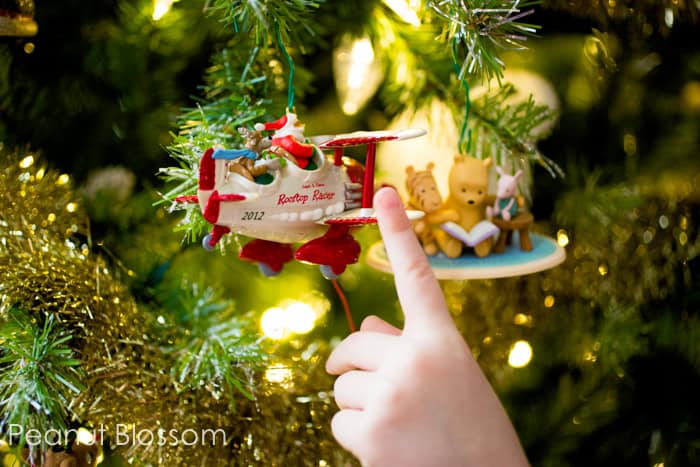 Christmas morning comes and goes in a fast-paced blur of magic and frenzied wrapping ripping and bow tossing. As moms of little ones, we know this is big day for our cameras but the pressure that comes with trying to perfectly capture those moments can suck the joy from the moment. No one wants to remember Christmas through the eye of a lens, but I can't imagine not having pretty holiday images for our albums.
One of my favorite ways to relieve a little of that stress is to take advantage of the entire month of December for incorporating our tree into the background of images. I spend lazy weekend mornings taking just a little time to capture my kids interacting with the ornaments and gazing at the lights in their holiday jammies. There are no presents to tempt them, everyone is well rested, and I can wait for just the right light.
If the session doesn't work? Try again on another weekend morning! This is the perfect time to experiment and play.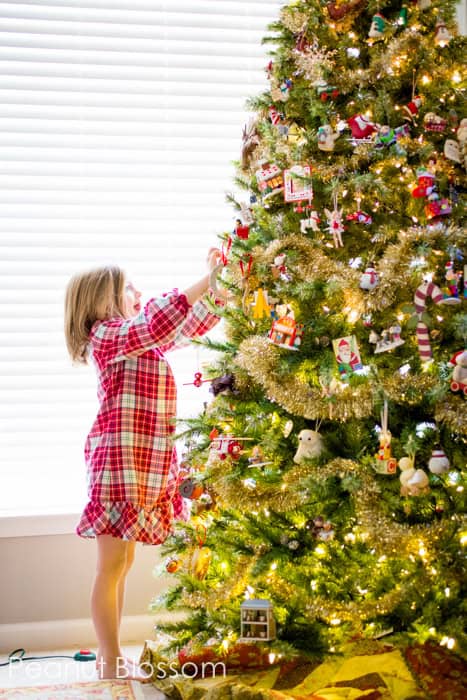 1. Light is Everything: We keep our tree near a window that gets the morning light. I drew the blinds to help diffuse the light. You don't want direct sunlight on your child or the tree for this session or there will be harsh shadows and no twinkle to the lights. There should be a good amount of ambient light in the room so you can avoid using your flash. For this time of year, 8:30 am – 3:00 pm is the time range you will have the most luck. Any earlier or later and the light will be too dim.
2. Sit back and observe: If your kids are anything like mine, they will not be able to resist going near the tree. My 4 year old is obsessed with touching and playing with the ornaments. I didn't have to ask her to go near the tree, I just sat myself down on the floor with my camera and waited. Once she went over to check things out I quietly started taking pictures. I love that shot of her jumping up to see the higher ones! I would have missed the moment altogether if I hadn't been sitting in wait.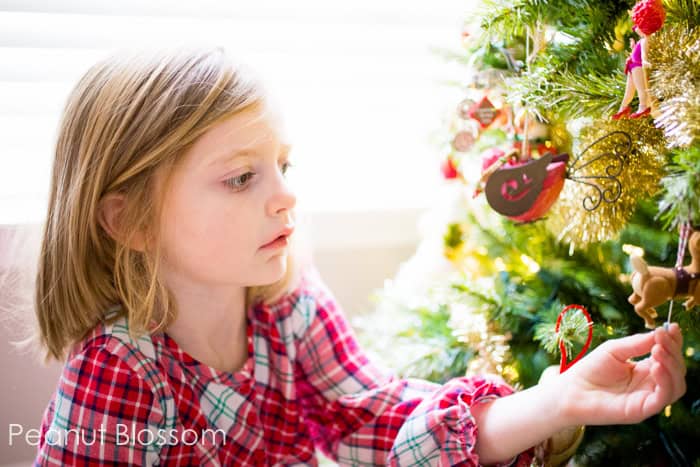 3. Capture the details: Once you've got a few full body shots from farther away, sit next to your child and talk about different ornaments. They will want to reach out and touch the ones you mention. Even if you don't capture the ornament itself, this is a perfect time to capture a wonder-filled gaze as they look at the twinkly lights. Bonus points because the light from the tree will help to brighten their faces.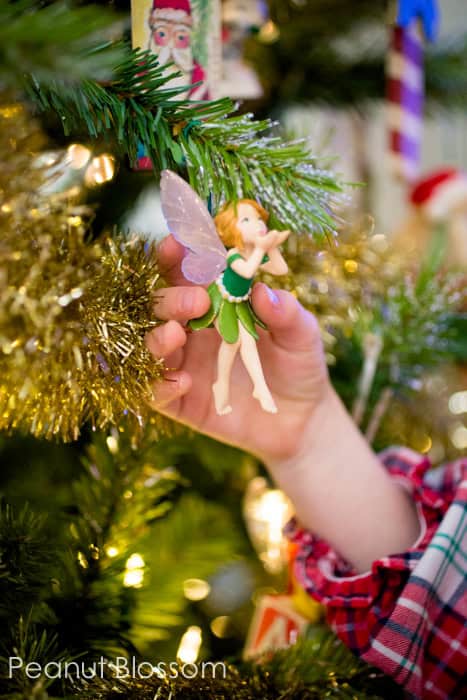 4. Tiny hands: Zoom in close onto your child's little palms clutching favorite ornaments while they are on the tree. This is a wonderful way to document the scale of just how tiny they are right now while capturing the twinkle lights in the background.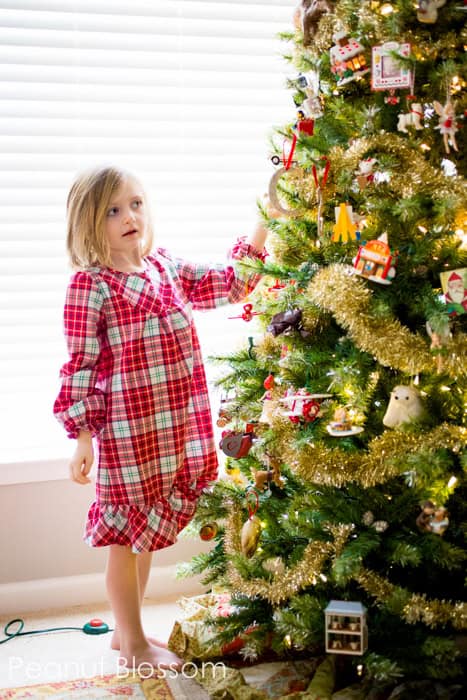 5. Take advantage of time: Remember you have the whole month to try again. Some mornings your kids are just not going to be feeling the holiday magic. There have been some years where I caught the best tree photos during the week between Christmas and New Year's with a bunch of failed attempts before Christmas morning! You will learn just as much from the failed sessions as you do from the hits. You never know when you might capture that one family classic in a sea of botched images. Add the winner to a collage from other sessions and no one will ever know they were taken on different days!
If you'd like to learn more about the gear I used to capture these images, you can peek inside my camera bag here.
If you'd like to commiserate over some seriously failed photo attempts, you'd love my annually updated series of "How NOT to take Christmas card photos" here.
And if you haven't gotten your tree up yet, you'll love these tips for capturing the day the ornaments come out!
You can find Tiffany on Facebook, Twitter, Google+ and Pinterest. Thanks, Tiffany!